Arrival by Plane:
Most international flights arrive into Atatürk International Airport (IST) at Yeşilköy located on the European side of Istanbul, approximately 20 kilometres away from the city centre. From Ataturk Airport, you can take Havatas, the airport shuttle service (costs 10 Turkish Lira) to Taksim, a major district on the European side. The coaches are white and have the text 'Havatas' on the side as per the picture below. The Havatas bus stop at the airport is located just after you exiting the airport – cross the first road (where the taxis wait) and the bus stop is on the next section of pavement.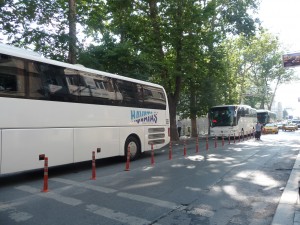 You would then need to continue by subway in the direction of Yenikapı and exit at Halic station. As an alternative, you can take a taxi from Taksim area, which should cost around 10 Turkish Lira.
If you are flying into Sabiha Gökçen International Airport (SAW) located on the Asian side of Istanbul at Pendik/Kurtköy, please check with your airline whether a free of charge shuttle bus to the city is available for your flight. If not, you can take a taxi from the terminal or catch a bus.
Arrival by coach:
If you are travelling by an intercity bus, you will arrive into Esenler Otogar (main bus terminal on the European side) or Harem Otogar (main bus terminal on the Asian side). Most bus companies provide free of charge transportation for their passengers to major points of the city, or you can use taxi or public transportation.
Here are some important things to keep in mind when you pack for your trip:
Arrive at the airport 2 hours before the departure time of your flight together with the documents required for university registration, passport with student visa and other documents on the date notified to you.
Keep your fragile goods and official documents in your hand luggage or with you against the possibility of losing important documents.
Please write your address in Turkey clearly on your luggage.
It is recommended to keep at least 100USD in cash with you when you come to Turkey just for precaution.
Don't forget to bring some warm clothes since your arrival dates would be a season when rain and cold start in Turkey.
See the passport control desk when you land in Turkey. After passport control, follow the directions to find the luggage collection. In the event that your luggage is lost, report to the Airport Lost and Found Office.
Make sure you have University's address and contact numbers with you – taxi drivers in Turkey don't usually speak English and you might need to show them the address written down.